Alma Rosa Nieto
Attorney/Founder of the office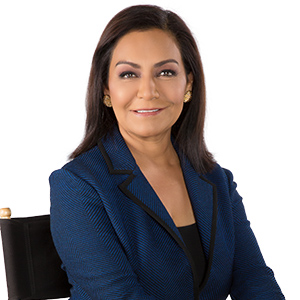 Alma Rosa Nieto is an immigration attorney and legal analyst based in Los Angeles, California. She is a frequent
contributor to Telemundo, Univision, Al Jazeera America, MSNBC, MSN Latino, NBC Latino, CNN, and NPR. She is
a frequent contributor on the popular Spanish radio show "El Show del Mandril" on Radio Centro 93.9 FM where
she discusses the latest immigration news across the country and answers listener's immigration inquiries. Ms.
Nieto is an ardent advocate of immigrant's rights and a zealous supporter of immigration reform.
Alma Rosa Nieto was born in Los Angeles, California but raised in Mexico City, Mexico. At 11 years old, she
moved to Mexico City where she attended the prestigious "Instituto Anglo-Español." Upon completing her
education in Mexico City, Nieto returned to Los Angeles where she completed her undergraduate degree in
Sociology at California State University Los Angeles. She then earned her Juris Doctorate degree at the
renowned University of California Hastings College of Law in 1982.
During her time at UC Hastings, Alma Rosa Nieto interned at a local immigration attorney's office in the Mission
District of San Francisco, California. After seeing the neglect of so many immigrant clients, Nieto decided to turn
her focus towards the immigrant community and essentially took on his clients as her own. As a result, in 1984
Nieto founded the Law Office of Alma Rosa Nieto in her hometown of Los Angeles, California.
Over the course of 30 years, she has represented thousands of clients and educated millions through her
frequent educational appearances on Television, Radio, and presence on social media. Notwithstanding her
regular weekly appearances on Telemundo.com and "El Show del Mandril," Ms. Nieto hosts a weekly YouTube
show ("Inmigracion al Dia" [The Latest in Immigration]) where she highlights and breaks down the latest in
immigration news. Her video coverage of the immigration implications of the repeal of the Defense of Marriage
Act (DOMA) took social media platform Facebook by storm, reaching over 74,000 people and the video being
re-shared 774 times in only a matter of hours.
Alma Rosa Nieto was also a key figure in the "Bring Them Home" Campaign, organized by the National
Immigrant Youth Alliance, in which organizers helped hundreds of deported youths seek asylum in the United
States in 2014. Her expertise is sought after by many leaders in the telecommunications space and landed her
an exclusive invitation to President Obama's town hall meeting in Miami where he discussed his 2014 Executive
Actions on Immigration.
Her expertise and determinacy to educate the immigrant community has earned her many awards by the
American Immigration Lawyers Association, the City of Los Angeles, and the California State Legislature.